African youth tackle European labour shortages
Europe's rapidly ageing population is facing ever-increasing shortages on the labour market. Forward-thinking entrepreneurs are already looking for skilled professionals on the continent with a very young population: Africa. The Dutch programme MATCH links companies to African talent.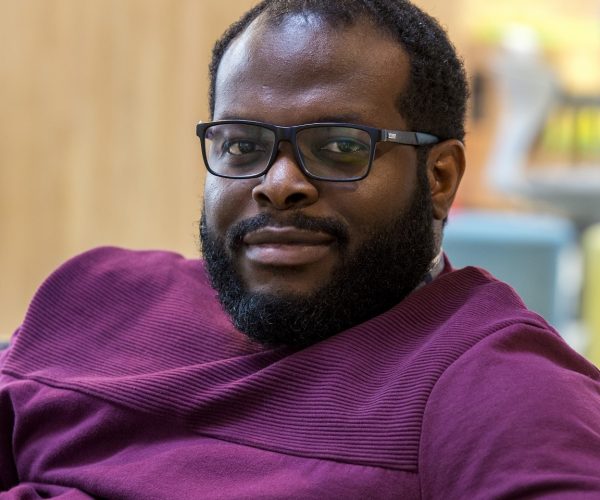 When Tonye Atiegoba (29) left Nigeria for ever-so punctual Germany, he did not know what to expect. In Nigeria, if you ask ten young people if they want to work in Europe, almost everyone will answer with a firm 'yes', says the cheerful Tonye during a Zoom interview.
For many people it comes as no surprise that many young Africans want to go to Europe. But that Europe also needs them, is a lesser well-known fact. Tonye did not come to Europe by boat, but simply arrived by plane. "Every year, Germany invites a group of highly educated Africans to work in Germany. They come to share their knowledge and further develop their talents," says Tonye, a sturdy young man with square glasses and a contagious laugh. Of the 9,000 Africans who applied in 2019 for the German fellowship programme 'Afrika Kommt!', only 46 were selected. "The large interest and selectivity of the programme shows that there is an enormous pool of talent in Africa that is rarely tapped into."
African talent in the Netherlands
Today, Africa has over 1.3 billion inhabitants, 200 million of whom live in Nigeria. The average African is just under 20 years old, while the average European is over 42. With an increasing number of people reaching pension age in Western Europe, all eyes are now turned to Africa. It is nowadays already a real challenge to find good staff members for particular sectors of the Dutch economy. "A good ICT professional is very hard to find", says Guido Geerts, CEO of Delft Imaging Systems. And once you have found one, the turnover rate is high: people quickly leave for another job. Geerts is pleased that there is now also a programme being implemented in the Netherlands aimed at African talent: MATCH. This three-year project focuses on 'matching' highly skilled African talent with companies from four EU member states, including the Netherlands. In the Netherlands, the project is implemented by the International Organisation for Migration (IOM) and the Netherlands-African Business Council (NABC).
Africa has some of the fastest growing economies in the world. Delft Imaging Systems knows this all too well. The company specialises in X-ray applications, for example to detect TB or COVID-19, and is particularly active in developing countries. "There is no shortage of talent in Africa", says Geerts. "There are 35 people working for our company, more than half of whom work for our subsidiary in Ghana". Via the MATCH programme, Geerts was introduced to an interesting candidate from Nigeria. "We hope to be able to hire her soon. Because our customers can be found all over the world, it is of utmost importance that our staff is as diverse as possible".
The MATCH programme supports Dutch companies experiencing hard-to-fill vacancies with finding a talented African employee. The programme currently focuses on candidates from Senegal and Nigeria; Africa's largest economy. In response to COVID-19, the project offers the possibility to hire the African talents remotely for a transitional period with the goal to later integrate them into the national teams of the Dutch companies.
Learning from African talent
Pauline Mbundu, manager and chairwoman of the cultural diversity network 'Connected Cultures' at PwC, stresses the importance of diversity within an organization. "People that fail to see that a large part of their clientele are diverse, can miss out on turnover", says Mbundu, who herself moved to the Netherlands from the DR Congo in her teens. "I think it is a very good idea for a company to hire an African employee for a while. Employees from Africa can learn a lot about the way things are organised in the Netherlands. But vice versa, we can also learn a lot from them". Twice a year, 15 talented status holders start their career at PwC. "That is another way of attracting diverse talent", says Mbundu.
The talented Tonye initially planned to work for just one year at Boehringer Ingelheim, a pharmaceutical company near Frankfurt. Soon after, he was offered a permanent position.  "Eventually I would like to return to Nigeria where I can make a real difference with the knowledge that I have obtained. This exchange can have a very positive impact on a country like Nigeria, but of course only if the candidate returns back to Nigeria after working for a couple years in Europe. With this, Tonye touches upon one of the underlying concepts of the MATCH project, which is financed by the European Union. By showcasing that there are legal ways for African professionals to work in Europe, irregular migration will eventually decline.
Delft Imaging Systems is an example of a Dutch company that is looking for ways to increase their local representation in Nigeria. "In the beginning, I had a tendency to underestimate the quality of our employees in Africa," says Guido Geerts. "After working closely together and with good training, our employees in Africa have grown into their positions demonstrating skills and abilities in line with their colleagues in Europe; they are thorough and patient. In the near future, I am convinced that more European employers will recognize the benefits of working with African talent."