The last Policy Brief of the African Policy Dialogue (APD) in Ghana
The last Policy Brief of the African Policy Dialogue (APD) in Ghana on "The Way Forward for Sustainable Youth Employment in Ghana" with policymakers and relevant stakeholders took place on Tuesday, the 29th March 2022 at the Alisa Hotel in Accra.
6th of April 2022
News item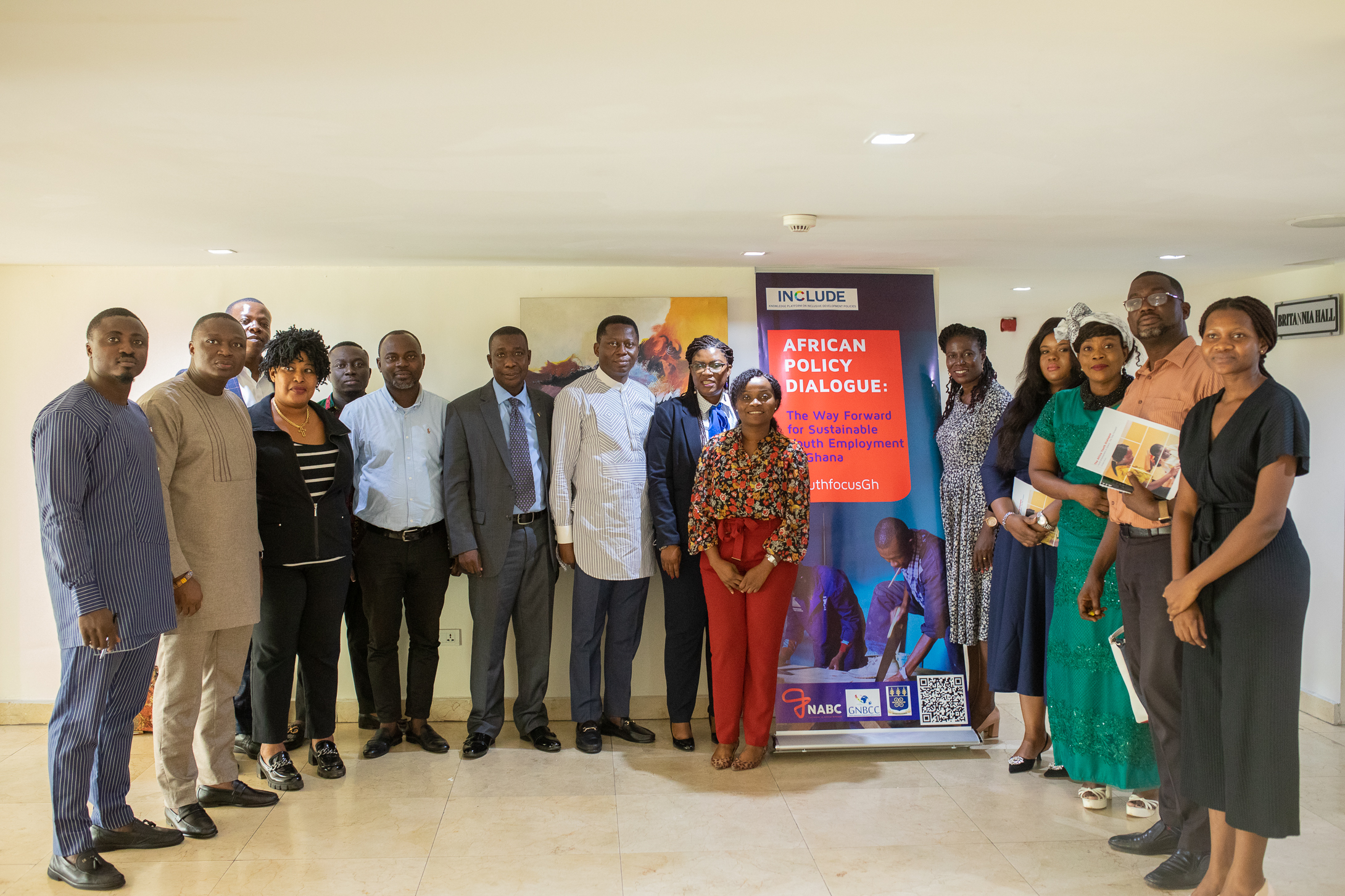 APD Ghana is an initiative of the Netherlands-African Business Council (NABC), the Department of Economics of the University of Ghana, Legon, the Ghana Netherlands Business and Culture Council (GNBCC) with the support of the INCLUDE Knowledge Platform.
The event brought together the Government of Ghana Youth Agency; the National Youth Authority (NYA), the General Secretaries, and representatives of the 4 major political parties in Ghana (CPP, NDC, NPP, and PNC), as well as a section of the youth and private sector represented by Nestle Ghana Limited. A total of 20 persons attended in person and 15 persons joined online.
Keynote speakers for the event included Mr. Tijmen Rooseboom, the Dutch Ambassador for Youth, Education and Works (MFA, NL), Mr. Nelson Owusu Ansah, Deputy CEO of the National Youth Authority, Ms. Gladys Ofei, the Senior Trade and Information Officer at The Netherlands Embassy in Accra, and Ms. Sophia Benson, the HR Manager at Nestle Ghana. One theme that was common in all the keynote speeches was the need for a more collaborative approach to ensuring that the Youth in Ghana are well represented in the various sectors, with the requisite knowledge and skills easily accessible in order to meet the ever-changing demographics of the workplace.
In his opening address, Mr. Tijmen Rooseboom highlighted the Dutch Government's approach to Youth Employment in its foreign policies in Africa. Ms. Gladys Ofei shared the opportunities that were available to the Youth in Ghana with the Embassy's many programs ranging from scholarships to mentorship for young persons. Ms. Sophia Benson represented the role of the private sector in curbing youth unemployment in Ghana.
Lastly, Mr. Nelson Owusu Ansah highlighted the Government of Ghana's interventions in creating opportunities through its flagship programs such as the Youth in Agribusiness, Youth in Entrepreneurship, and TVET.
Presenting the findings and recommendations towards sustainable youth employment in Ghana, Prof. William Baah-Boateng reiterated the latest data on youth unemployment, presenting insights into the age, gender, and sectors most affected as well as highlighting the solutions gathered from the various expert workshops with the private sector.
The abridged version of the report was presented to the policymakers and would be made available online for the public via the INCLUDE platforms.
The INCLUDE platform is a Dutch- African platform  that promotes evidence-based  policymaking on inclusive development in Africa through research, knowledge sharing, and  policy dialogue.
To get an impression of the policy dialogue, please
click here
for the pictures.